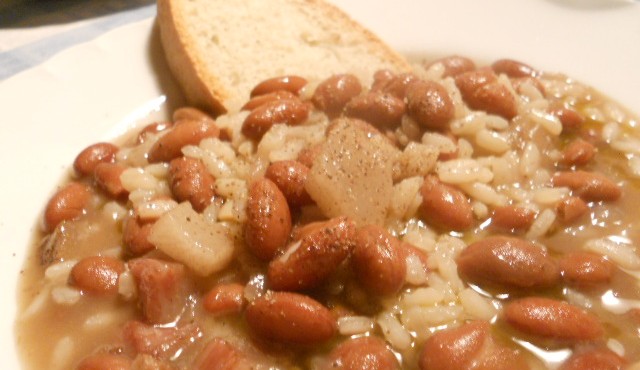 It's cold, is snowing and I have to stay at home so I will cook a soup:
Ingredients for 4 people:
250 gr. Pinto beans (fresh or dried)
100 grams of smoked bacon
3 medium potatoes
1 carrot
1 onion
1 clove of garlic
1 tablespoon of tomato puree
100 grams of Basmati rice
4 leaves of sage
vegetable broth
Half a glass of white wine
oil
salt
pepper
Keep 12 hours to soak dried beans and then cook in salted water for 40 minutes. If you use fresh ones you do not need this. Sauté the onion in oil, with the carrot and the 'garlic, add the bacon cut into small cubes and fry. Pour the white wine, add diced potatoes, a tablespoon of tomato puree and cook with plenty of broth for about 30 minutes. At this point add the beans with more broth, and rice. Take the time to cook the rice. Season with salt and serve with a drizzle of olive oil and a sprinkling of black pepper.