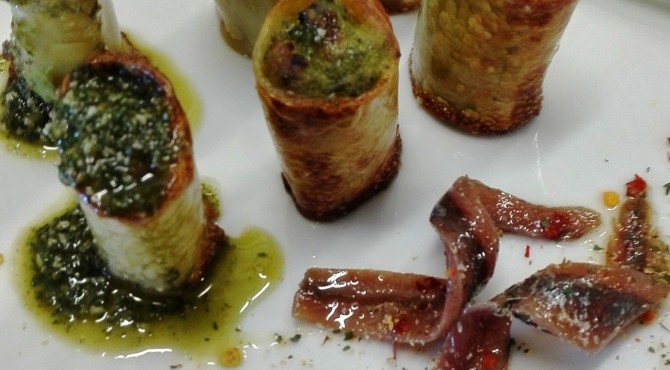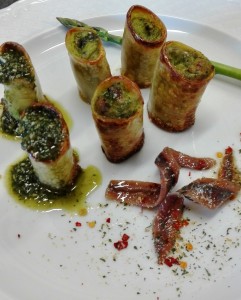 Some guests at the Hosteria have particularly enjoyed the pasta we served , and then here we go with the recipe!
For 4 people
400 gr. Paccheri
250 gr. Mixed ricotta cheese (cow and sheep)
200 gr. Asparagus (in my case wild ones)
80 gr. Of smoked scamorza cheese
Basil (a lot!!!)
Marinated anchovies
Thyme
Garlic
White wine
Extra virgin olive Oil
Salt
Chili
Clean the asparagus until you reach the "tenacious": cook in a pan with olive oil, garlic, salt and pepper and Cook, adding white wine. Tied together the hard parts of the asparagus and cook in salted water (add a glass of white wine!): you'll use this water to boil the pasta. In the meanwhile the asparagus tips are cooked: Add ricotta cheese, thyme and basil, season with salt and pepper, add scamorza smoked cheese cut into small pieces and blend everything until you have created a cream … Suggestion: If the cream is too runny use the breadcrumbs. Boil the pasta 8 minutes and dry it, still hot (otherwise it will close) fill it with the cream of asparagus. Place them upright on a baking sheet and baked until golden brown. Create a sauce of basil, salt and olive oil working everything in a blender. At this point serve the pasta with basil sauce and marinated anchovies.