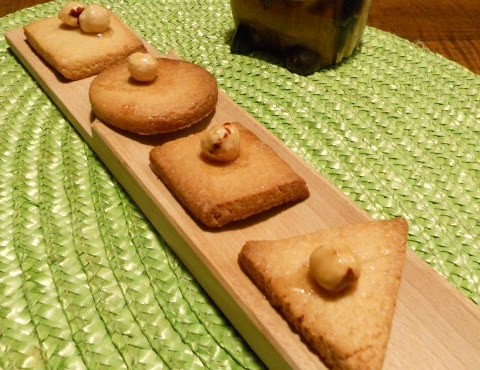 350 g. White flour "00"
100 g. White sugar
120 g.  butter
2 eggs
1 tablespoon  ginger in powder
1 teaspoon ground cinnamon
150 gr. hazelnuts
Wildflower honey
Soften the butter in a double boiler. Work the flour with the eggs, sugar, spices and add the butter. Work the dough quickly, and put it in the refrigerator in a plastic bag for at least 1 hour. Roll out the dough with a rolling pin and create cookies in the shapes of your choice. Place on a nonstick baking paper and bake the cookies at 180 degrees for 15 minutes. Remove from oven and place a teaspoon of honey and a nut on each cookie. Put in the oven (turned off but still hot) and let cool.