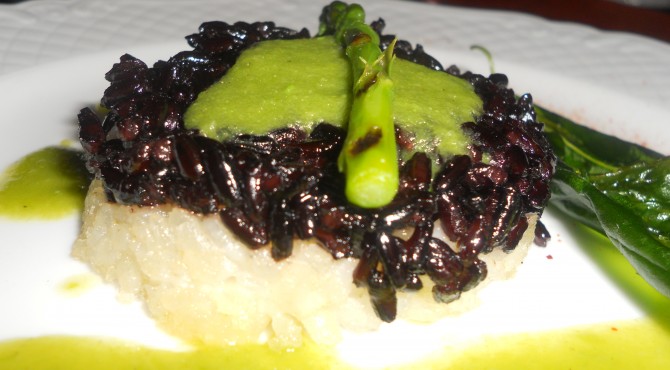 cute and good …… and you can taste at the Hosteria Mattta:
Ingredients for 4 people:
100 gr black rice
50 gr. basmati rice
10-15 asparagus
4 slices of bacon
powdered ginger
salt
chilli
wild mint
olive oil
4 aluminum molds
Boil the rice in two separate pots (they have different cooking times). When they are cooked, drain and let cool on a cold surface. separating the grains. Cut the asparagus by removing the last part of the stem. Cut almost to the tip, washers,taking care to keep the tips whole. Boil water with salt, and half a clove of garlic,asparagus, Throw washers and cook. Drain, keeping the water and cook the tipsfor 5-8 minutes, keeping them crisp. Purée the asparagus slices of cooked,adding a little oil, salt and pepper and a few leaves of mint. At this point in twoseparate bowls, whisk the rice: white with ginger powder and a little oil, and blackwith a pinch of salt and a drizzle of olive oil. We are ready to assemble the cake.Butter the ramekins, place a spoonful of basmati rice, black rice on a spoon back and forth through 180 ° in oven for 7-8 minutes. Reversed in the pie plates, place a generous spoonful of cream of asparagus, the tips of asparagus and a slice of bacon you've baked in oven grill …… Good!