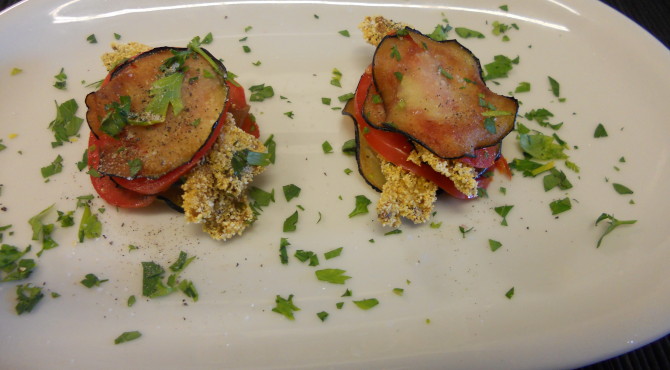 I feel sorry for those who were not able to come to dinner at Hosteria Mattta last Saturday ….. but we have so much fun! And we cooked many good things, like this delicious appetizer:
Ingredients for four people:
1 eggplant
8 fresh anchovies
1 ripe tomato
Corn flour
sliced ​​almonds
fresh ginger
parsley
garlic
oil for frying
Cut the eggplant into thin slices and fry in hot oil until light brown. Clean the anchovies removing the bones and entrails. Mix the corn flour with chopped parsley, a clove of garlic, fresh ginger  and sliced ​​almonds. Breaded anchovies and fry in hot oil until light brown. At this point you can build your appetizer: a slice of eggplant, a fillet of fried anchovies,and a slice of tomato. Serve it with a generous sprinkling of parsley.