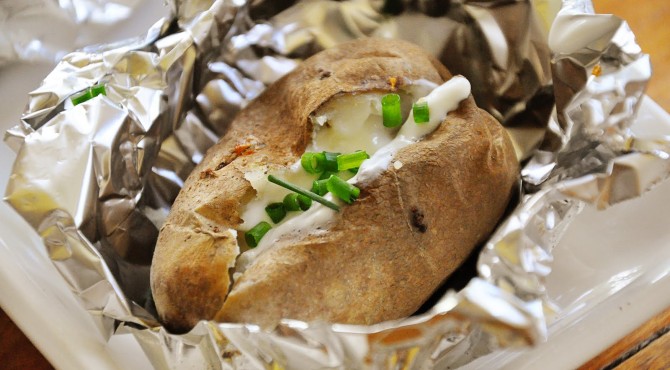 For each guest:
1 potato
50 gr. cauliflower
50 gr. Spicy gorgonzola
1 shallot
Two tablespoons of white wine
chive
milk
salt
black pepper
Boil the potatoes halfway. Cut into two parts and dig the flesh. Sauté the finely chopped shallots in a pan with extra virgin olive oil, pour in white wine and add the cauliflower cut into small pieces. Put milk and water while cooking if needed.  At the end of cooking, add the pulp of potatoes, season with salt ,pepper and chives. Knead the mixture coarsely with a fork, and fill the half potatoes. Before re-pair the two halves put a teaspoon of blue cheese in the center. Wrap potatoes in aluminum foil and put them in a very hot oven before serving: must arrive at the table "hot"!