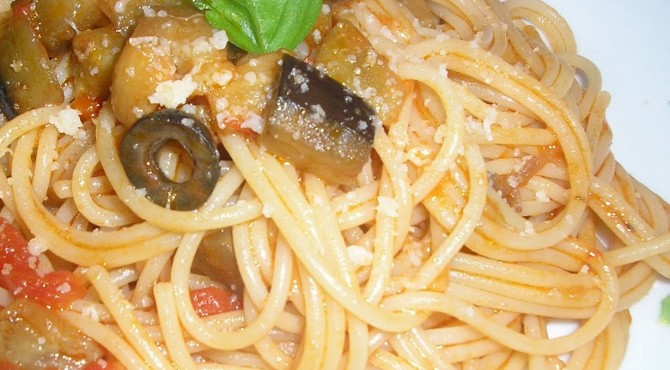 Ingredients for 4 people:
350 gr. linguine
1 eggplant
1 onion
20 olives
3 ripe tomatoes
1 clove of garlic
Extra virgin olive oil
Oil for frying
200 gr. Salted Ricotta (if you can't find it Parmigiano will be ok)
20 basil leaves
A bunch of parsley
A bunch of chives
a bunch of thyme
½ cup white wine
salt
chili
Cut the onion into thin slices and garlic into small pieces and brown all in a pan with olive oil. Add sliced olives, parsley and chives thinly sliced, thyme, diced tomatoes and blend with the white wine. Cook for 10 minutes.Add salt and pepper and turn it off. Cut the eggplant into small cubes and fry in oil.. Cook the linguine in salted water, and when they are al dente, drain and sauté in the pan with the tomato sauce. Add the basil and the fried eggplant and stir with a little 'olive oil. Before serving, grate over the pasta a nice amount of salted ricotta.