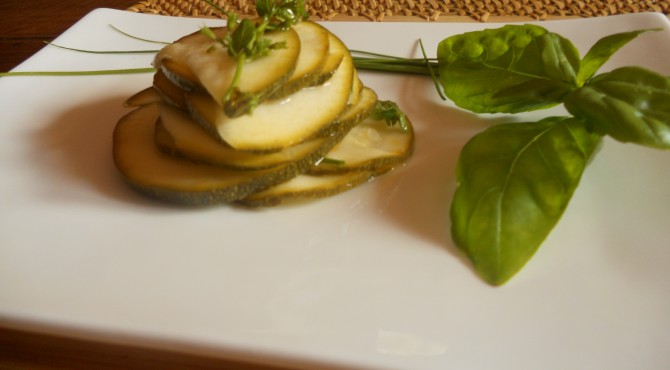 Now the production of the garden is very generous: the first zucchini is a celebration, the second you are grateful, the third …you wonder why and fourth makes you desperate! So it is time to store for the winter. This recipe was told me by the mother of a dear friend,Pietro,  which I emptied the pantry the first time I've tasted!
1 kg zucchini
1 lt. White wine vinegar
5 cloves of garlic
chilli
chive
oregano
wild mint
salt
Extra virgin olive oil
Cut the zucchini into thin slices (I use the mandolin) and put them in a large pan where they are comfortable and not crowded. Boil the vinegar and when it is hot put it over the zucchini. To make sure that they are all wet by vinegar, if necessary, put  above them some metal cutlery. Let stand for at least 6 hours. Drain the zucchini and dry them, and put in jars, alternating layers of zucchini and generous seasoning of garlic, salt, pepper, oregano, chives and mint. Cover everything with the oil and leave the jars open for two or three days, to adjust the oil level. At this point, close tightly.