We do not like to make the usual ham and melon, so we re-invent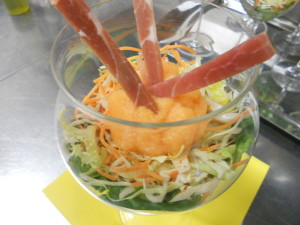 it:
for 4 people
half a melon
three tablespoons of vodka
two teaspoons of brown sugar
Tabasco
salt
extra virgin olive oil
12 sticks of ham
endive
rocket
cabbage
julienne carrots
Cut the melon into cubes and marinate with vodka, brown sugar, a few drops of Tabasco, and a pinch of salt, for about 1 hour in the refrigerator. After marinating blend the melon and when it is reduced to a puree let it drain in a colander until it lost its liquid. Prepare the 4 separate salads and seasoned to your taste (I recommend soy, balsamic vinegar and olive oil), and put them in layers in a cup. Put two tablespoons of mousse on top and garnish with a few sticks of ham.