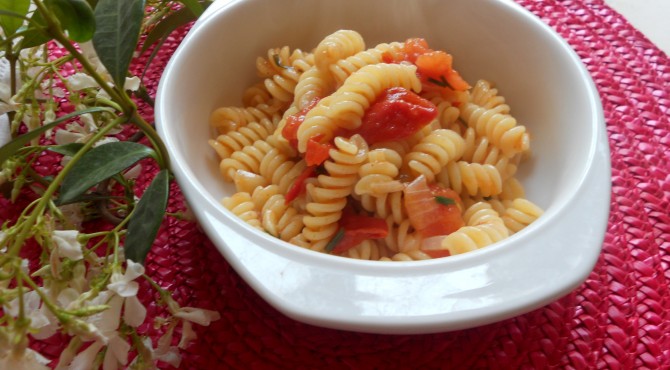 Ingredients (4 people):
350 gr. Pasta, fusilli in this case, best kind of pasta to keep the sauce
5 ripe tomatoes
1 spring onion
1 clove of garlic
5-6 leaves of fresh basil
Chives (abundant)
Chilli
4 pitted black olives
Extra virgin olive oil
One tablespoon of bread crumbs
Salt
In a frying pan with oil, put the clove of garlic,the onion thinly sliced, chopped black olives, tomatoes cut into small pieces, put salt and chili cook it for 10 minutes, adding  a small cup of hot water. In the meantime cook fusilli in salted water and when ready, put them  in the pan with the sauce, add the chives and basil and a spoonful of bread crumbs.