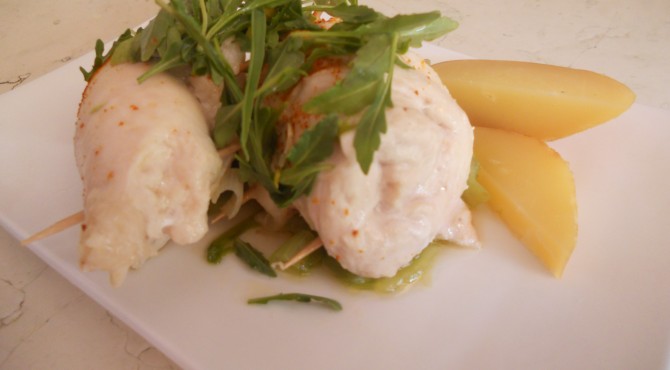 Chicken rolls filled with smoked scamorza cheese and arugula
Ingredients for 4 people
800 gr. Chicken breast, cut into slices
1 smoked Scamorza cheese
150 gr. arugula
1 onion
1 clove of garlic
1 cup white wine
4 sage leaves
salt
chilli
Extra virgin olive oil
Pound the slices of chicken with a meat mallet, put a pinch of salt in each slice and let stand in refrigerator. Cut  finely the onion and brown it in a pan with oil and a clove of garlic, and the sage leaves. Chop finely half of  the arugula and add it to the pan. Cook for 4-5 minutes. Cut the smoked Scamorza cheese into sticks and put a stick of cheese and a sprig of arugula inside each slice of chicken. Roll up carefully, making sure they are closed well otherwise during the cooking process the cheese will melt out of it! Place rolls in the  pan and cook over very low heat for about 35 minutes, adding the white wine, salt and pepper. Serve hot with fresh arugula without seasoning.