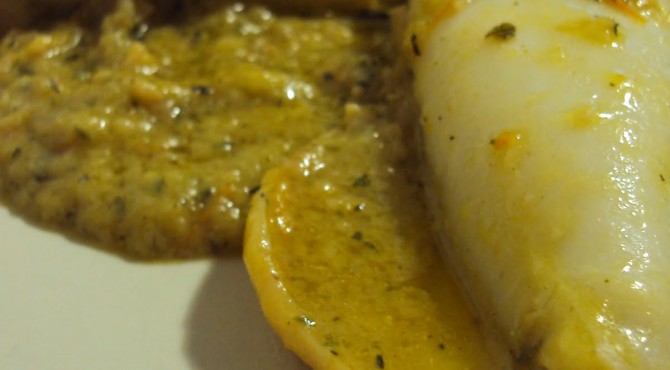 Ingredients for 4 people:
500 gr. cuttlefish
3 artichokes
1 clove of garlic
1 onion (or shallots)
Half a glass of white wine
parsley
50 gr. Of breadcrumbs
Extra virgin olive oil
Clean the artichokes from the out leaves and cut them into strips. Saute the onion and the garlic finely chopped  in a pan with olive oil and add the artichokes, add white wine. After 10minutes of cooking add the parsley and take half of the artichokes. Cut them into small pieces with a knife and mix with the breadcrumbs. With this mixture fill the cuttlefish (Do not fill too full because it swell during cooking). Put the squid in a baking oven with olive oil, adding the remaining  artichokes, sprinkle with salt and pepper and bake at 180 degrees for 20-25 minutes.