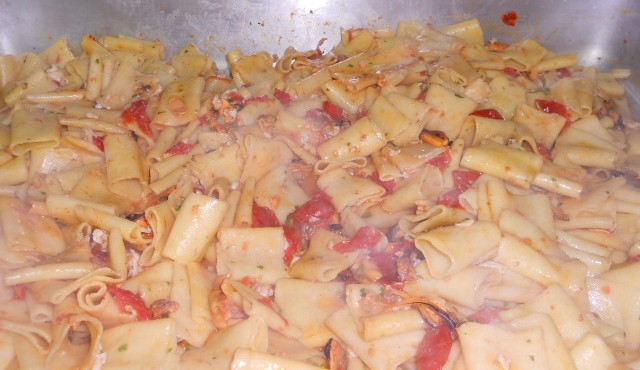 How delicious paccheri (or slaps as they are called in Campania) Perfect for collecting all the wonderful sauce and for pies!
Ingredients for 4 people:
400 gr. homemade Paccheri
450 gr.  mussels
2 fillets of sea bream
300 gr. Tomato Datterino
1 clove of garlic
1 shallot
Ginger root
parsley
1 glass of white wine
chili
salt
In a large skillet, brown the shallots and garlic finely chopped and blend with white wine. Add the Datterino cut in half and let them dry. In a large saucepan, place the mussels and let them open fire on brilliant. When opened shell them and add to tomatoes, putting even the cooking liquid filtered, add salt and pepper. Cut the fillets into strips and add to the sauce. Let it cook for 10 minutes.  Boil pasta in salted water and when they are al dente, sauteè in the sauce, adding grated horseradish and chili.