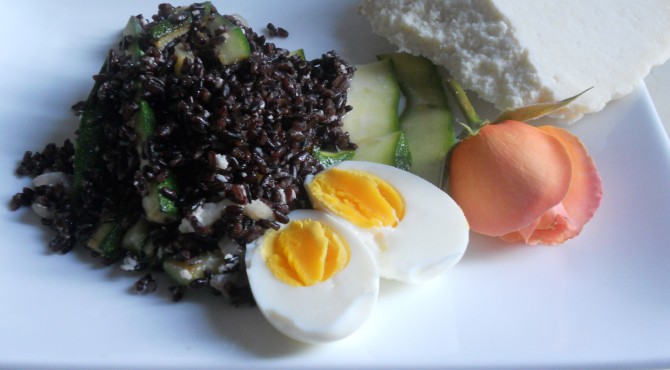 Today when I saw Castelmagno cheese on the shelf of my favorite market , I could not resist! It is one of my many passions is food and not very easy to find in my town. It is a cheese from Piedmont and it is considered the "prince" between cheeses of this region. The taste varies greatly according to the time of maturation: delicate and sweet when young, becomes a gently intense, spicy and crumbly … .. in short, it is real delicacy!
Ingredients for 4 people
300 gr. Rice VENUS
200 gr. Castelmagno cheese
2 courgettes
1 red onion
Half lemon
4 eggs
Oil
Salt
Chilli
Boil the rice in salted water for about 30 minutes. In meanwhile in a skillet with olive oil, chopped red onion and courgettes in sticks (without the inner pulp9 (pls keep half courgette!) Put it on the fire and cook for about 5 minutes. In a saucepan, boil the eggs for 10 minutes. Cut the half courgette kept apart in thin strips and season with olive oil, salt, lemon and chilli, and place it in serving dish. Drain the rice and sauté it 3 minutes in the pan with the courgettes, add grated Castelmagno cheese. Put the rice on top of the courgettes carpaccio, and garnish with eggs.