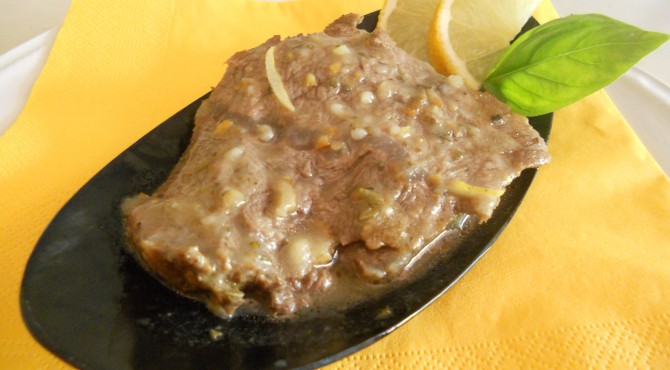 Ingredients for 4 people
800 grams of veal (roast beef)
1 pink grapefruit
1 yellow grapefruit
1 orange
1 lemon
1 onion
6 sage leaves
30 g butter
Rice flour
1 / 2 cup dry white wine
oil
chili
salt
Wash thoroughly orange and lemon. Chop sage, pepper, orange and  lemon peels, and once chopped spread it over the whole piece of meat. Tie the meat, flour and brown in butter and oil, wet with wine, then add the finely chopped onion, water (3 cups), salt and pepper. Cover with lid and cook it for about 1.30 on a low flame.
Peel the grapefruit, collect the juice dripping, then slice, brown quickly in butter, turn off and keep warm.
In a frying pan with a spoon of butter, put two tablespoons of rice flour, lemon peel and pink grapefruit peel cut into julienne, and create a cream over low heat, adding the cooking sauce of the meat to create a very liquid sauce.
Slice the roast in very thin slices, drizzle with the sauce, and complete the dish with slices of grapefruit previously browned.