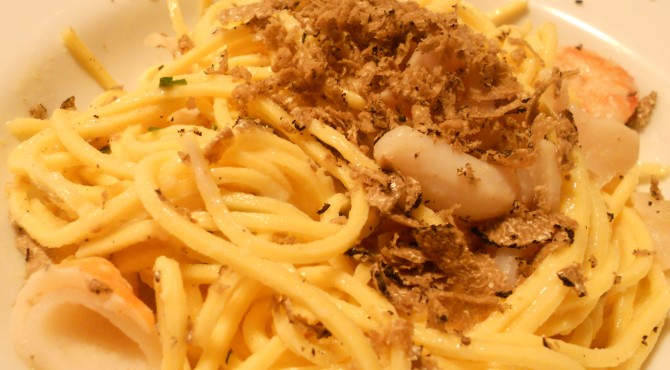 Ingredients for 4 people:
350 gr. noodle
100 gr. truffle
2 tablespoons heavy cream
8 shrimps
1 squid
7-8 clams
1 cuttlefish
1 onion
1 clove of garlic
white wine
parsley
In a frying pan with oil, fry the onion and garlic finely cut. When gold put the cuttlefish and squid cut into small pieces, salt and pepper, and cook for 10 minutes, adding white wine as needed. Now add the peeled shrimps and clams and cook until the clams will open. Remove the shells add two tablespoons of cream and half the truffle, grated. Boil noodles in salted water and al dente, finish the cooking the fish sauce. When cooked, sprinkle with chopped parsley and the remaining truffles grated.