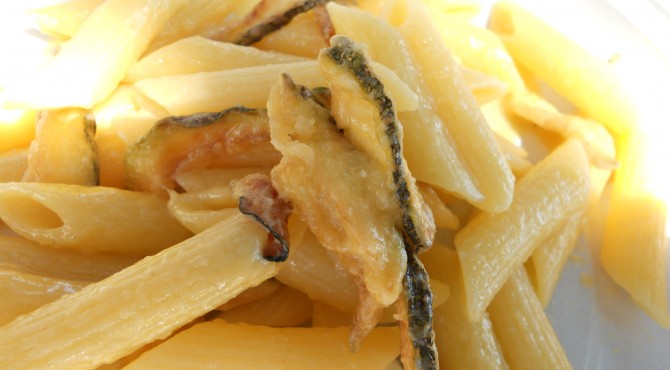 Ingredients for 4 people
350 gr. Penne
150 gr. Smoked bacon
1 clove of garlic
2 zucchini
2 tablespoons flour
3 eggs
150 gr.grated pecorino cheese
A sprig of parsley
salt
black pepper
Extra virgin olive oil
Cut the zucchini into cubes and roll them in flour, removing any excess (it should remain just a veil!). In a pan with plenty of olive oil, fry the zucchini until they are golden and crispy. In another pan, sautè a clove of garlic and thediced bacon. Beat the eggs with a pinch of salt and grated Pecorino cheese, add the black pepper. In a pot with salted water boil the penne, when cooked, drain and season with beaten eggs, add the bacon and crispy zucchini last. Before serving, sprinkle with finely chopped parsley.