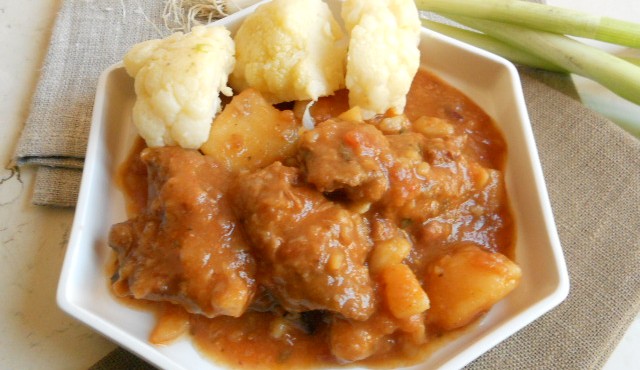 With the arrival of the cold, the stew at the table is a MUST! And because I am a greedy person, I prepare  it according to my taste ….
Ingredients for 4 people:
700 gr. Veal (rump steak)
200 gr. Spare ribs (a rib per person)
1 white onion
1 clove of garlic
1 carrot
1 rib of celery
4 cloves
4 grains of juniper
thyme
1 lt. vegetable broth
5 potatoes
A handful of beans
200 gr. tomato sauce
Half  glass of vodka
salt
chili
In a large frying pan with olive oil, sautè onion, garlic, celery and carrot finely chopped. When gold, blend with vodka and add diced veal and pork ribs. Sauté and add the tomato puree, juniper berries, peppercorns, cloves and thyme. Cook on low heat for about 1 hour and a half, adding the broth if needed. Then add diced potatoes and a handful of boiled beans. Continue cooking for another hour, adding salt and chili and broth.