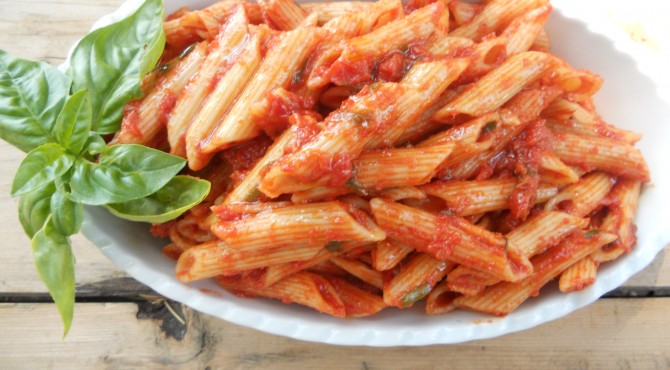 Perhaps it would be better to call Penne with oregano because it is the herb that you can taste more! However, with all these beautiful fresh herbs it comes out an inviting sauce, with the sun in!
Ingredients for 4 people:
350 gr. Penne
150 gr.peeled tomatoes
1 spring onion
1 clove of fresh garlic
Thyme
oregano
Marjoram
Chive
Parsley
Rosemary
Basil
Gr 150 (1) buffalo mozzarella
Extra virgin olive oil
Salt
Chilli
The herbs should all be very abundant, a nice bunch of each. Put the oil in a pan and add the garlic and onion finely chopped, cook a few minutes and add all the herbs finely chopped as well. Cook until the garlic and the onion is golden, add the tomato puree, salt and pepper and cook over low heat for about 15 minutes. Cook the penne in salted water until al dente, and finish their cooking in the pan with the sauce. When ready , add the diced mozzarella.