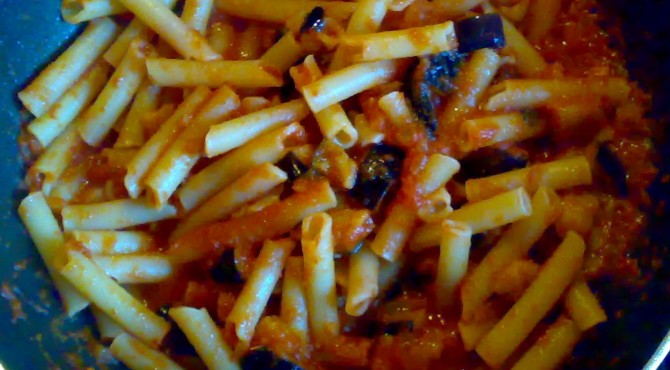 Ingredients for 4 people:
300 gr. penne
1 onion
1 clove of garlic
2 large ripe tomatoes
Half a glass of white wine
200 gr. Sweet gorgonzola
2 long eggplants
parsley
thyme
chili
Extra virgin olive oil
marine salt
Cut the eggplant into small cubes and fry in olive oil. When crispy and golden, drain and let cool. In a skillet sautè the onion and garlic finely chopped ,add  thyme, and blend with white wine. Then add the tomatoes, peeled and diced. Season with salt and pepper and cook for about 20 minutes, adding a lot of water. (Must be a very liquid sauce). At this point, add the Gorgonzola cheese and melt over low heat. Boil the penne in salted water, drain and dress with the tomato sauce. Add the fried eggplant, sprinkle with chopped parsley and serve.