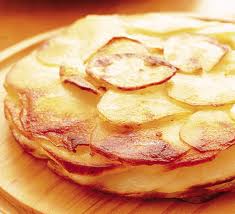 Ingredients for 4 people:
400 gr. cabbage
4 potatoes
1 shallot
50 gr. almonds
Two tablespoons of bread crumbs
150 gr. Gorgonzola
oil
salt
chili
butter
Boil the potatoes and cut into slices and put salt on it. Cut the cabbage into thin strips blanch in boiling water for 5 minutes. Drain and mash in a pan with olive oil and shallots for 5minutes, seasoning with salt. Butter the ramekins and  pass the breadcrumbs on it. Put a layer of cabbage, a layer of potatoes, a layer of blue cheese and a sprinkling of ground almonds, until completion of the stencil. Bake at 200 degrees for 15 minutes.