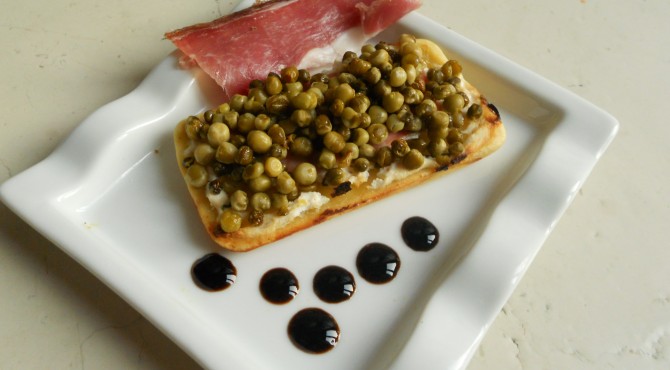 Ingredients (4 people):
200 gr. Flour
3 eggs
15 gr. Yeast
½ cup of milk
200 gr. Ricotta cheese
50 gr. Grated parmigiano cheese
100 gr. Peas
100 gr. Cooked ham in slices
1 clove of garlic
Salt
Chilli
Single serving baking molds
Put the flour into a bowl and combine it with 2 eggs, warm milk and yeast and work the dough with a whisk. Let it rest for an hour. In the meanwhile, combine  the ricotta cheese with the  grated parmigiano and a pinch of chilli. Cook the peas in a frying pan with oil and a clove of garlic, adding water if necessary. When the dough has risen, put a spoon of it in each mold and bake for 10 minutes in the oven at 180 degrees. After 10 minutes' cooking, put a layer of ricotta cream, a slice of ham, a spoonful of peas and a tablespoon of beaten egg. Let's finish cooking in the oven for 15 minutes and serve them with few drops of balsamic vinegar.