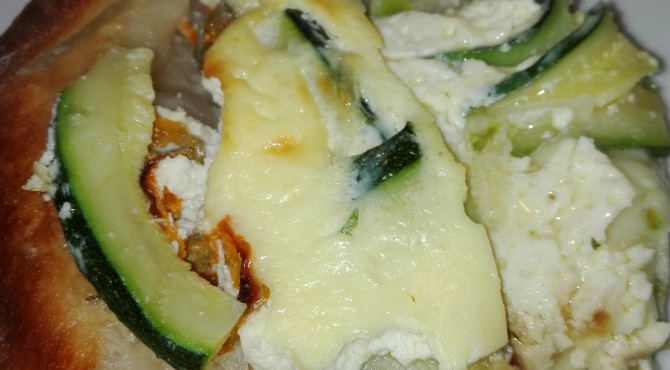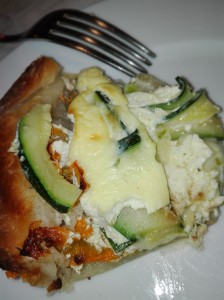 For 4 people
1 roll of puff pastry
3 zucchini
1 onion
6/8 pumpkin flowers
Fresh ginger
250 gr. Ricotta cheese
2 eggs
5 slices of Emmental
Extra virgin olive oil
Wild Mint
salt
Chili pepper
Cut the zucchini into strips, cut only the green outside and keep the pulpapart. Soak in a pan with oil, 
finely chopped onion, add the zucchini fillets, a generous grated ginger and wild mint and bake with 
brilliant fire for about 8-10 minutes, keeping the zucchini crispy. In a bowl put the ricotta cheese with 
the two eggs, the zucchini pulp, salt and chili pepper and grind it all. Place the puff pasty in a baking 
tray and place the flowers, add the slices' cheese and cover with cooked zucchini then  spread with ricotta 
cream. Cook in the oven at 200 ° for 15 minutes covered with aluminum paper, then open and finish cooking 
for another 20 minutes.