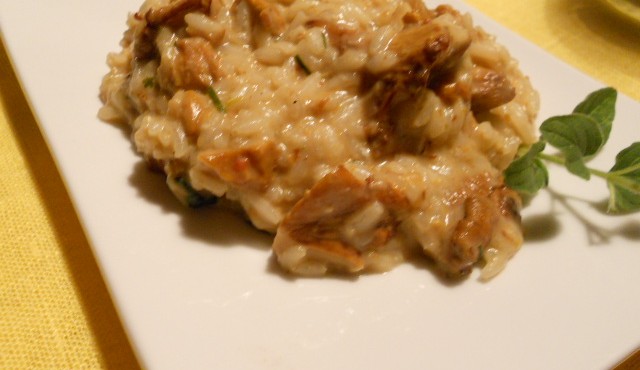 Ingredients for 4 people:
300 g arborio rice
150 g mushrooms
50 gr. mascarpone
50 g Gorgonzola
1 onion
1 clove of garlic
3 tablespoons of vodka
thyme
4-5 basil leaves
chive
Extra virgin olive oil
500 ml vegetable broth
salt
chili
Chop garlic and onion very thin and brown in a skillet with olive oil. Pour vodka, add the mushrooms (carefully cleaned ), a pinch of salt and pepper and cook for 10 minutes. In a small pot, boil the vegetable stock. Remove two tablespoons of mushrooms and mix in a mixer, and add it back to the  mushrooms. Add chopped herbs to the mushrooms and the rice and cook, stirring constantly, stretching with the vegetable broth as needed. A few minutes before you finish cooking add the mascarpone and gorgonzola and stir the risotto.