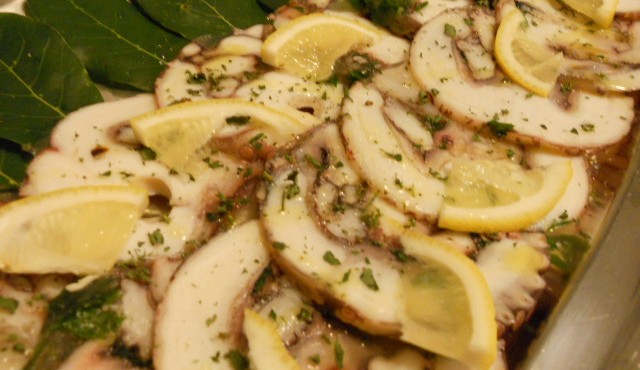 Ingredients for 4 people:
1 Octopus of about 800-900 grams.
1 lemon
parsley
salt
black pepper
Extra virgin olive oil
wild mint
laurel
In abundant salted water, boil the octopus (previously gutted), for about 40 minutes. When cooked, cut into 4 pieces and drain well. Take a plastic bottle and cut it to create a container. In a bowl, season the octopus with lemon juice, salt and pepper, and place it inside the bottle trying to remove as much air as possible. Press well, also using a bottle if necessary. When everything is well pressed,put it in the fridge for a few hours and then in the freezer until time to serve. Cut it in thin slices, still frozen, (with the slicer is great!) and arrange the slices over the laurel, season with a drizzle of olive oil, a pinch of salt, and mint leaves.