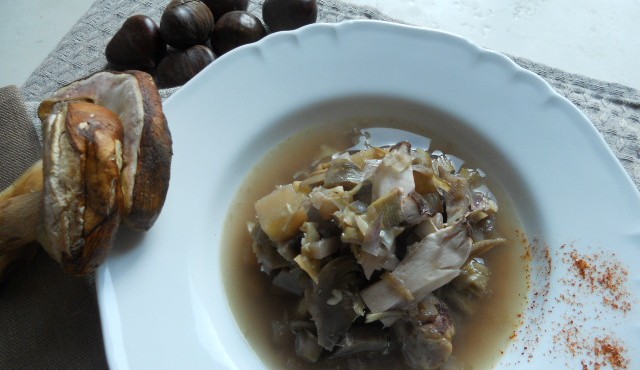 … .. I'm glad the autumn comes: a season rich in the country and in the woods!
And today, when I saw porcini mushrooms, artichokes and chestnuts at the market I could not resist!!
Long life to THE SOUP!
Ingredients for 4 people:
3 artichokes
350 gr. Porcini mushrooms
20 chestnuts
1 potato
1 shallot
1 clove of garlic
1 glass of white wine
Extra virgin olive oil
black pepper
1 lt. Vegetable stock
parsley
While  chestnuts are boiling in salted water, chop scallion and garlic very thin and let them fry in a pan, with olive oil, until brown. Take out outer leaves from artichokes (hard like a stone!!),And also remove any hair that may be in the middle, cut the upper part into thin strips and the stems into cubes, put them in water acidulated with the juice of a lemon. Add the artichokes to the shallot cook for 10 minutes (brilliant fire!), adding a white wine. Now  chestnuts are boiled (about 30 minutes), we burnt our hands to peel them ,and add it to the artichokes, along with one diced potato. Add the broth and a pinch of salt and let cook for 30 minutes over low heat. Clean the mushrooms (without water but only with a toothbrush !), And cut into strips. Add them to the soup and let cook for 10 minutes (otherwise they will mash! ). This soup should be served warm with a drizzle of olive oil, sprinkle with black pepper and a few leaves of parsley. BUON APPETITO!