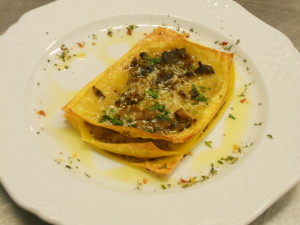 if I have to be honest , this dish starts from the forest : the real joy is to pick the mushrooms ! But if you can not then buy them .
Ingredients for 4 people
350 grams of Porcini mushrooms
300 gr lasagne (find the recipe here)
1 shallot
half a glass of dry white wine
parsley
wild mint
salt
chili
olive oil
salted ricotta
In a skillet , sauté the shallots with the olive oil , add the sliced mushrooms into thin pieces and cook them in brilliant fire for 4-5 minutes. Add half of the white wine, salt and chili and wild mint and cook for another 2-3 minutes . At this point whisk half of the mixture and let it rest in pieces. Cook the pasta in salted water to which you add the remaining white wine and cook the lasagna for 5 minutes. At this point mounted lasagna putting the puree of mushrooms between one layer and another, and topped the last layer with the mushrooms into small pieces, grated ricotta salata and a drizzle of oil. Bake at 140 degrees for about 20 minutes.