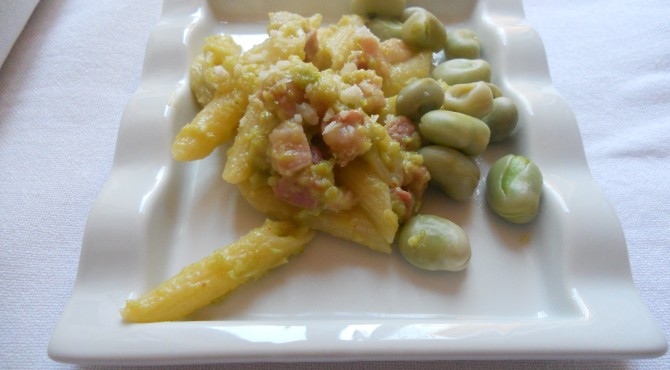 Ingredients (4 people):
350 gr. Pasta PENNE
50 gr. Of grated pecorino cheese
50 gr. of bacon in small cubes
1.5 kg of fresh fava beans in their pods;
1 fresh spring  onion
1 clove of garlic
Two or three basil leaves
Salt
Chilli
Cook the podded broad fava beans,in salted water for 15 minutes.
When cooked, drain and put half of it in a blender with all other ingredients until creamy. In a pad brown the bacon and when ready add to the fava cream. Cook the PENNE in salted water. When it is "al dente" drain it and put in the pan with fava beans cream and cook for other 2 minutes. Serve the PENNE with fava beans, a sparkle of olive oil and grated pecorino cheese.