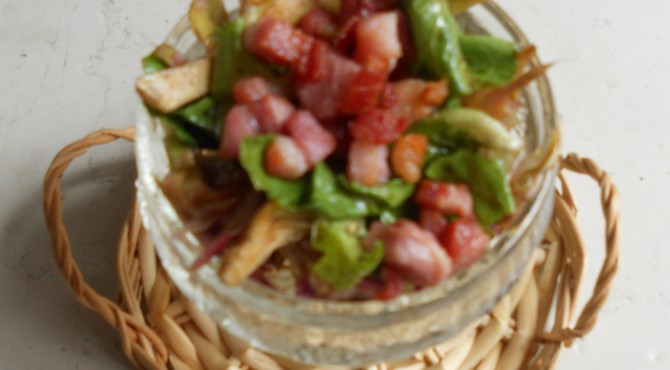 Delicious ….
Ingredients (4 people):
4 artichokes……. fresh – fresh- fresh
1 lemon
a tuft of arugula
extra virgin olive oil
black pepper
1 teaspoon mustard
balsamic vinegar
100 grams of bacon (diced)
Clean the artichokes by removing the outer leaves that are the hardest, and then….with holy patience slice them as thinly as possible. Soak them in water and lemon juice (to avoid they will turn into black). Dray them well (with a cloth if needed), and dress them with oil to which you add a tablespoon of mustard well mixed,, a pinch of salt, black pepper, juice of half lemon and the RUCOLA. In a non-stick frying pan brown the bacon , and put it on top of the artichoke salad. Season with a few drops of balsamic vinegar.