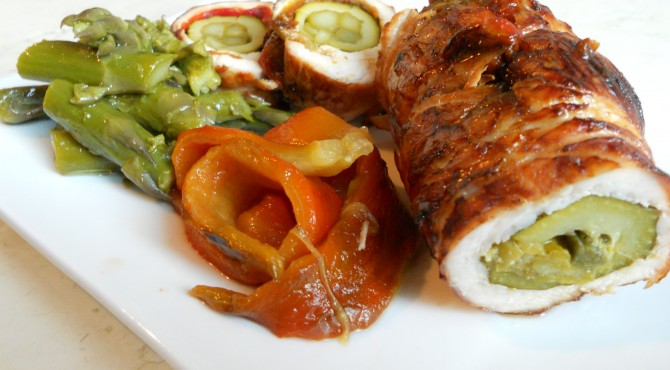 Ingredients (4 people):
600 g turkey breast
100 grams of asparagus
1 zucchini
1 red pepper
Salt
half glass of White wine
Extra virgin olive oil
Grill in the oven the pepper, when cooked  peel it put it in a covered pan, so it will be easier to peel it. In the meanwhile, steam cook the asparagus: pls do not pulped them! Cut the zucchini in half and cut out the pulp. When the asparagus are cooked, take two of them and fill the zucchini.. Roll out the turkey breast and press it. Put some salt, the open pealed pepper, the composed zucchini/asparagus, and roll the turkey, binding good. Put the  roll in a baking pan with olive oil and a glass of white wine, and cook for 25 minutes in oven at 200 degrees. Serve it with the remaining asparagus, seasoned with olive oil, lemon and salt.