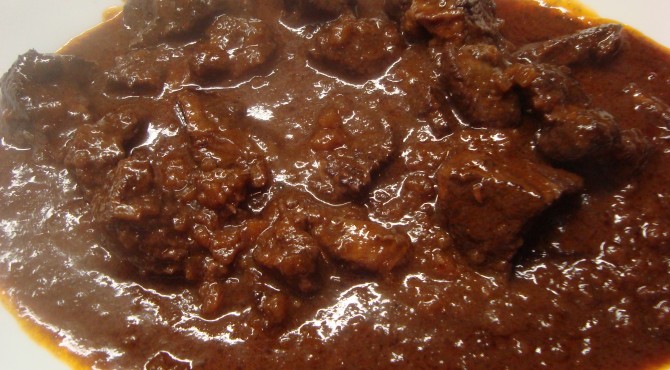 Ingredients for 4 people:
500 g of wild boar
300 gr. tomato puree
½ cup of vinegar
1 / 2 liter of red wine
1 / 2 carrot
1 / 2 onion
1 clove of garlic
3 / 4 bay leaves
juniper berries
2 / 3 celery stalks
a sprig of rosemary
2 sage leaves
2 cloves
a few leaves of parsley
50 gr. bacon, diced
Cut the wild boar meat into small pieces and marinate for at least 12 hours ,with 2 glasses of wine,  ½ cup of vinegar and a bit 'of salt. After this time squeeze it well and dry it. Put in a large frying pan, the onion, carrot, celery and garlic, sliced ​​thin and brown the meat in brilliant fire for about 10 minutes, adding the bacon. At this point add the red wine and cook until the wine is absorbed. We are ready to put the tomato sauce, rosemary, sage, juniper berries, cloves, low down the fire  and let simmer for 3 hours. If needed add hot water.