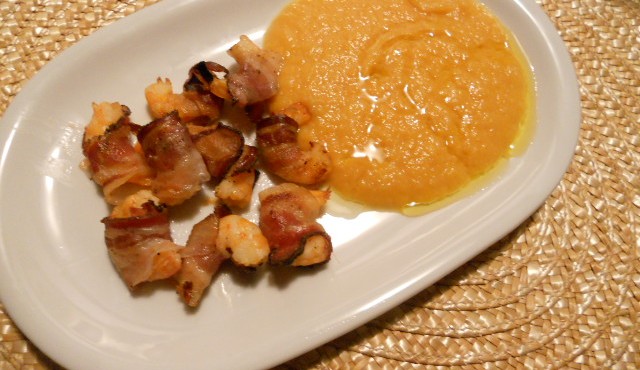 Ingredients for 4 people:
4 shrimp per person, 20 slices of bacon thinly sliced​​, 1 slice of pumpkin, half cabbage, 1 onion, 1 clove of garlic, 1 potato, salt, oil, vinegar, chili.
Peel  potato and pumpkin and cut into cubes. In a large saucepan with olive oil brown chopped onion and  garlic, add the cabbage, cut into slices, two tablespoons of apple cider vinegar, and the vegetables into small cubes, cover with water and boil for 20 minutes , adding salt and pepper. When cooked, put them in a  blender to obtain a paste. Peel the prawns and roll with slices of bacon. Cook on grill until the bacon is crisp and served hot with cream of pumpkin soup with a drizzle of oil.