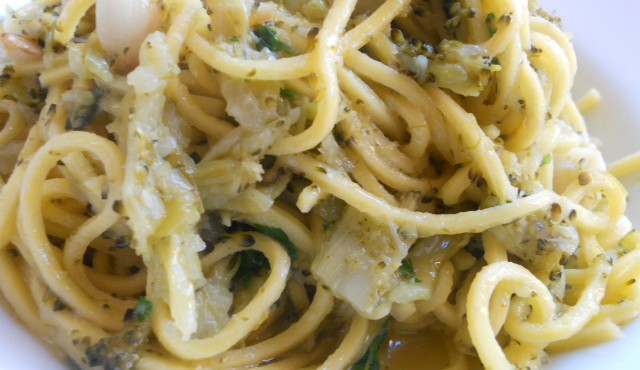 Ingredients for 4 people:
350 gr. of spaghetti
4 artichokes
1 lemon
150 gr. Gorgonzola
100 gr. mascarpone
1 shallot
1 clove of garlic
Half a glass of white wine
salt
chili
Clean the artichokes from the external hard leaves, cut into thin slices and put them in water with lemon juice. In a frying pan with oil, sauté the shallot and garlic, thinly sliced​​, and add the artichokes. Put salt and pepper, and cook for 15 minutes stretching with white wine. In a new frying pan over low heat, melt the gorgonzola cheese with mascarpone and add half the cooked artichokes previously blended. Boil the spaghetti in salted water and when cooked, pass them in the pan with the cheeses and served with remaining artichokes.