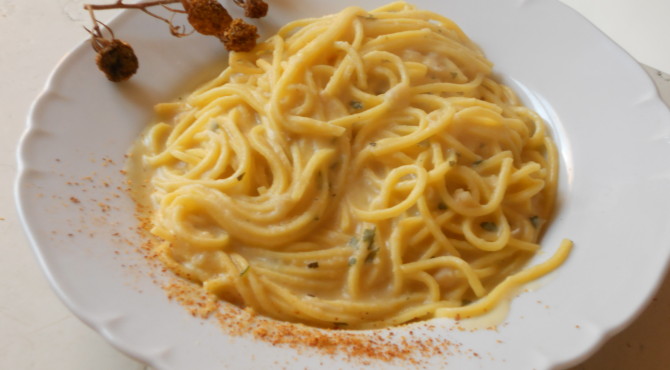 Beppe, our magical director, made delicious home made spaghetti without eggs (here is the recipe), and we serve them as follows:
2 cloves of garlic
Extra virgin olive oil
2 red dry chilli peppers
Water Cooking
Marine salt
350 gr. Gr Of Long Pasta
A sprig of parsley
saffron
Lemon Juice
250 gr. Of cream
Breadcrumbs
Lemon Peel
Parmigiano cheese
While the pasta is cooking, wipe the garlic and cut into thin slices, fry in a pan with olive oil and crushed red pepper. Let it  brown slightly, add the pasta and half cup of the cooking water and a bit 'of parsley. Whip the cream, adding a pinch of salt, saffron and  the juice of half lemon.
When the pasta is almost cooked, sauté it in the pan with the oil sauce,  add the breadcrumbs and grated lemon rind .. Serve the pasta with the flavored cream