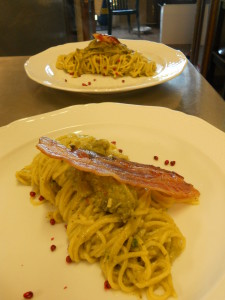 For 4 people
350 gr. egg noodles
300 gr. Fresh Broccoli
wild fennel
1 shallot
1 fresh onion
1 clove garlic
70 gr. Of grated pecorino cheese
Thyme
Parsley
4 slices of bacon
White wine
Chilli
Salt
Cook the broccoli complete with stem, in plenty of water with  a glass of white wine and a pinch of salt.
In a pan with extra virgin oil, cook shallot, fresh onion and a clove of garlic, wet with water and wine and add the chopped thyme and wild fennel.
In this pan add the previously boiled broccoli and cook for 20 minutes, adding white wine on need, salt and pepper.
When cooked pass everything to the blender to make a cream.
While the noodles are cooking, roast bacon in the oven at 200 ° covering it with a sheet of greaseproof paper and putting a weight on top, so it will not curl during cooking.
Drain the spaghetti and finish their cooking into broccoli cream, add the grated cheese and parsley and a drizzle of oil. Serve with a slice of crispy bacon on it….BUONI!