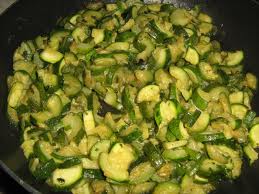 You can use it to make bruschette, for topping pizza, to make pasta…..
Ingredients (4 people):
3 Courgettes
1 onion
1 clove of garlic
Extra virgin olive oil
Salt
1 cup of  white wine
2 basil leaves
A bunch of chives
Chilli
Brown the finely chopped onion and the garlic, in a pan with extra virgin olive oil. Add the diced courgettes, chives, basil  wine , chilli and salt,  and cook for about 15 minutes.