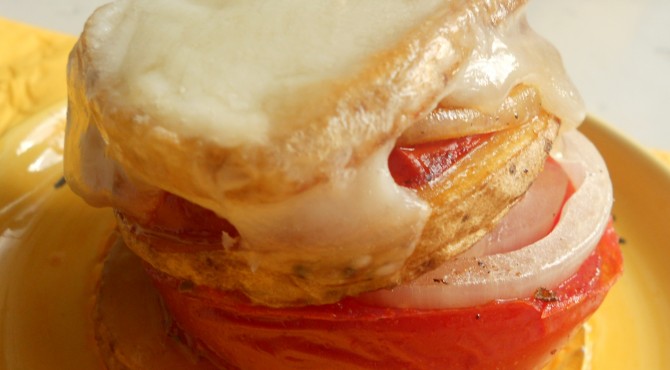 Ingredients for 4 people:
4 potatoes
4 tomatoes
2 onions
½ cup white wine
SCAMORZA smoked cheese
Extra virgin olive oil
salt
chili
oregano
Wash the potatoes and cut, with skin, into slices  of 2 cm. In a pan with olive oil and fry the slices of potatoes, 5 minutes per side. Cut the tomatoes into slices and let them dry in a pan for a few minutes, add salt and pepper. Cut the onions into rings and cook in white wine for 5-7 minutes. Now you can make  the pie by putting a potato slice, a tomato, some onion rings, a sprinkling of oregano. Fix it with a toothpick and bake in oven at 180 degrees for 20 minutes, add the smoked cheese into thin slices only in the last minutes of cooking.