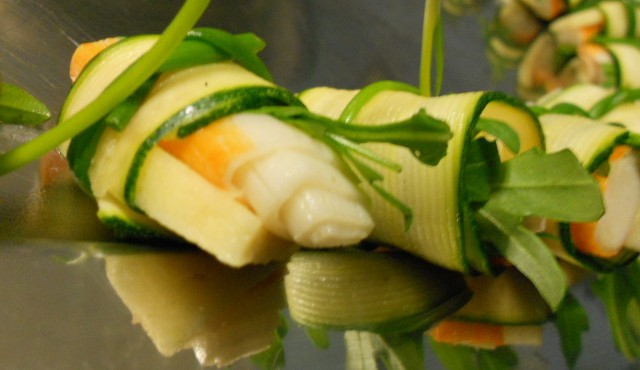 A pack of frozen surimi (fish flesh flavored  very popular in Japanese cooking)
2 zucchini
A tuft of arugula
1 apple
lemon
salt
chili
Extra virgin olive oil
Stalks fresh chives
chicory
Anchovy fillets
garlic
If you do not have very patient helpers, you can't do this appetizer! Luckily I had Nadia, who has been complaining  an hour but prepared chicory, and Rachele, who with holy resignation, prepared all the rolls!
Blanch surimi sticks in boiling water for two minutes : careful No more, otherwise it will mash! Drain and cut into small pieces and season with oil, salt, lemon juice and pepper. With a potato peeler, fillete the zucchini in thin strips, arrange on a plate and season with salt. Within each slice of zucchini, put a stick of surimi, a tuft of arugula, a stick of apple, wrap and tied with chive. Serve the rolls with chicory salad prepared like this. …Good!