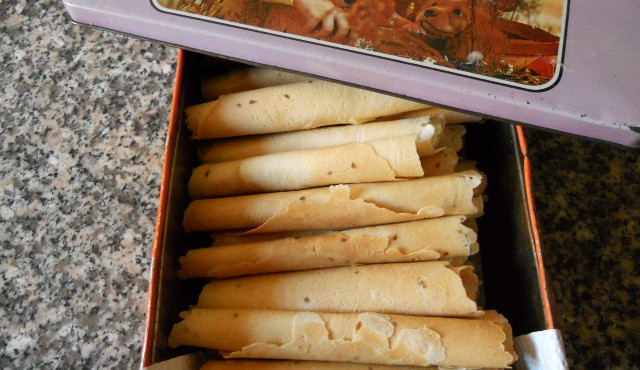 Today with my mom, we cooked "LE CIALDE".This is a typical cake of Marsciano (my town) for the Carnival. They are not very difficult to do but you'll need two basic things: the electric iron to make holy wafers, and lots of patience!
Ingredients for 50 waffles:
500 g of flour 00
250 gr. of sugar
500 ml. Dry white wine
250 ml. Of Vin Santo (sweet)
a tablespoon of Anise seeds
Mix well all the ingredients to obtain a quite liquid mixture. Heat very well  the iron, and put a tablespoon of dough. Close iron and cook for about 1 minute,  remove the wafer and when it is still warm, roll it. If placed in a metal box, wafers will keep crispy for several days. Serve with whipped cream: and be careful because you can eat a ton of it!