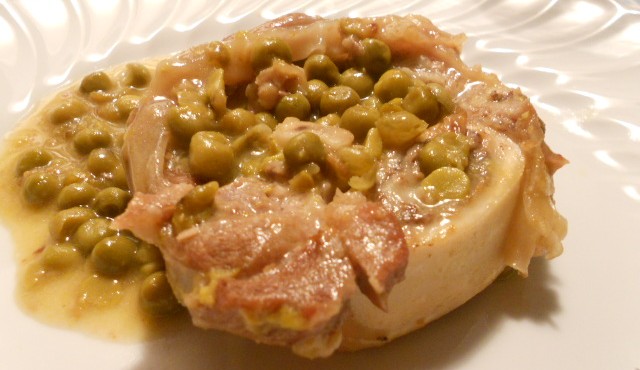 This is one of my favorite meat. I was thinking a few days, so I am prepared for me in my own way!
Ingredients for 4 people:
4 / 6 osso buco(sliced veal leg with bones)
1 onion
1 clove of garlic
Two or three tablespoons of vodka
white wine
2 tablespoons of flour
Two tablespoons of butter
250 gr. of peas
vegetable broth
salt
chili
parsley
In a pan heat the butter and add the onion and garlic finely chopped . Pour over the vodka, the marrow bones on both sides, previously passed in the flour. At this point turn the heat down and simmer for 1 ½ hours, lengthening with white wine and vegetable broth, as needed, adding salt and pepper. About half an hour before  the end of cooking, add the peas. Sprinkle with chopped parsley before serving.