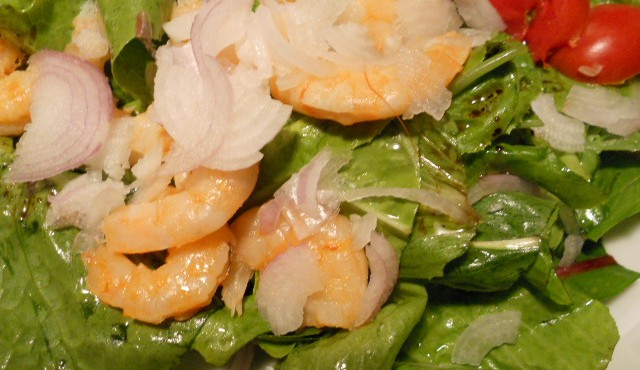 Ingredients for 4 people:
30 shrimps
1 clove of garlic
A spoonful of brown sugar
chicory
lettuce
arugula
chicory
chive
basil
1 red onion
Extra virgin olive oil
Lemon juice
salt
black pepper
Shell the shrimp. Cut the garlic into small pieces and brown it in a skillet with a tablespoon of olive oil, add the peeled shrimp and a teaspoon of brown sugar, and cook for a few minutes with  brilliant fire. In a bowl place a finely chopped red onion with few drops of lemon juice and a pinch of salt. Carefully wash the salad and mix it the basil and chives. Dress the salad  with extra virgin olive oil, salt, lemon juice and black pepper. Put the salad in a serving dish, put on the top shrimps and their liquid and onions.