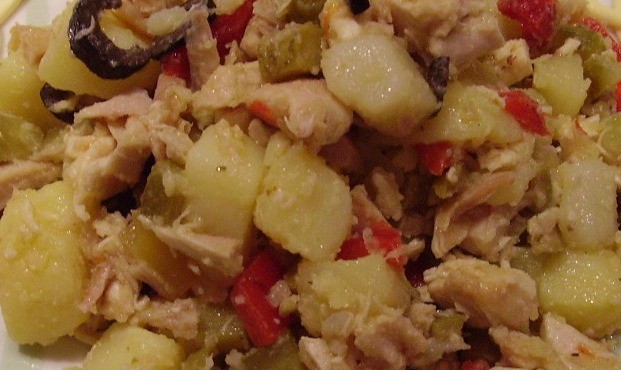 Ingredients for 4 people:
1 chicken
4 potatoes
3 tomatoes
10 Pickled cucumbers
1 onion
4-5 black olives
parsley
basil
oregano
Extra virgin olive oil
salt
chili
Boil the chicken in water (flavored with 1 potato, 1 zucchini, 1 onion, celery, 1 tomato …. you will have the broth as well!) for 40 minutes. When cooked take out the bones and cut the flesh into small pieces. In a bowl put the chopped tomatoes and season with olive oil, salt and pepper, and add the chicken pieces. Boil the potatoes and when cooked cut them into cubes and add to chicken. Now add the finely chopped parsley and basil, black olives, cucumbers cut into slices, a pinch of oregano and plenty of oil. Keep in refrigerator until ready to serve.