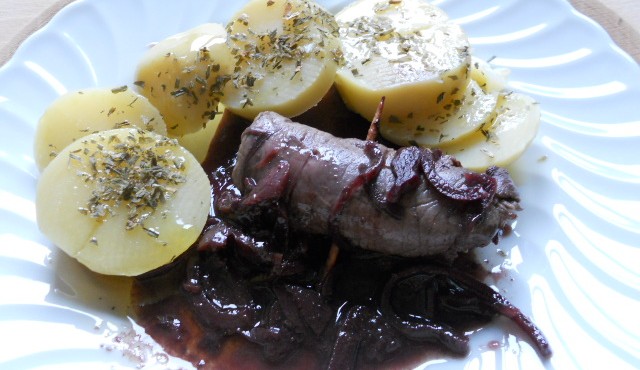 For sure it hurts the heart (and pockets!) to use the wine Sagrantino di Montefalco for cooking, but the result is amazing!
Ingredients for 4 people:
450 gr.   slices of veal cut very thin
1 bottle of Sagrantino of Montefalco
8-10 slices of bacon
1 courgette
A few peppercorns
1 onion
1 clove of garlic
salt
Put Sagrantino  in a pan, add the onion and garlic cut very thin and peppercorns and cook over low heat (about 1 ½ hours), until the wine is reduced to a cream. Cut the zucchini into sticks. Fill the slices of meat with a slice of bacon, a few sticks of zucchini and close with a toothpick. Bake the rolls in the cream of Sagrantino for a few minutes, adding salt at the end.