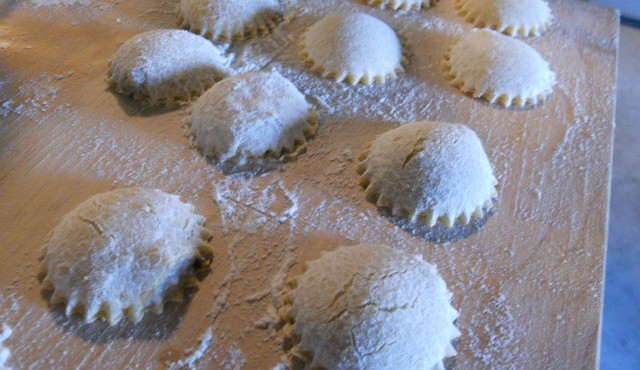 So much snow …. and then let's spend time in the kitchen.!
My neighbor gave me an excellent pecorino cheese so I decide to make  ravioli.
for the base of the dough view recipe here
for the filling: 300 gr. PECORINO cheese, two potatoes, 1 egg, 10-15 walnuts, nutmeg, salt, black pepper, butter, sage
Peel the potatoes and cut into cubes and boil in salted water for 15 minutes. When cooked, mash with a masher and mix with grated pecorino. Mix well and add the egg and chopped nuts, and few grated nutmeg. Roll out the dough and prepare ravioli with pecorino mixture. Cook the ravioli in salted water, drain  and sauté in a pan with butter, sage leaves and sprinkle with black pepper before serving.