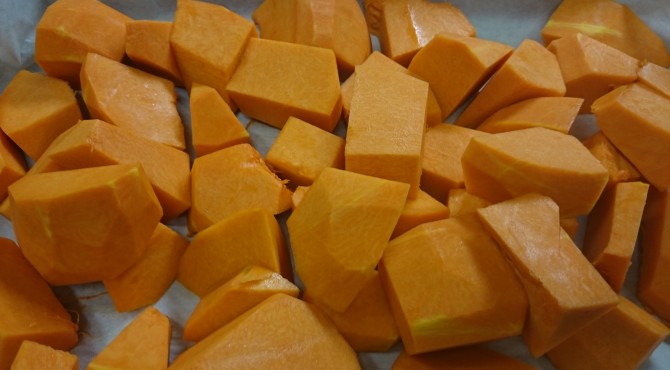 450 gr. pumpkin
A glass of white wine
A medium potato, boiled (about 125 grams)
breadcrumbs
Half onion
a clove of garlic
Celery
Carrot
Abundant Parsley
Two bay' leaves
Two sage' leaves
chilli
1 black truffle
Extra virgin olive oil
Lemon zest
Fresh ginger
Honey flavored with onion
Dice the pumpkin and cook in the oven at 220 ° with water and wine with celery, carrot, onion, garlic, sage and bay leaf until soft (about 20-25 minutes), adding salt and pepper. When cooked, add the boiled potato, and then blend the whole (by removing the bay leaves) to create a puree. Now add the breadcrumbs to solidify the mixture, but please do not let it become a brick !!! Grate half of the truffle ( be generous) and add it to the pumpkin puree. Roll out the dough and prepared ravioli putting a teaspoon of mixture : make them small, so they are more and more appreciated. In a large skillet warm up the oil with garlic and let it heat and add the remaining grated truffle and mix well. Add with grated fresh ginger and lemon zest. Finely chop the parsley and when ravioli are cooked ravioli sauteè in this pan and season with pepper and the chopped parsley. Serve the ravioli with a drizzle of honey flavored with onion … ..BUONISSIMI!